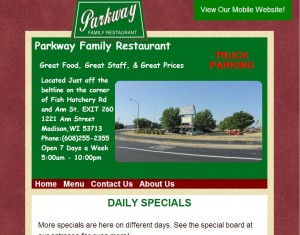 The Parkway Family Restaurant has been in business since 1990 and has never had a Website; only a few placements on local business Websites that really didn't help them much at all. This place already has a good sized group of followers that have found the restaurant over the years. The owner of this business is a very hard working and business savvy person. He is what I call a success story.
The problem with this restaurant is not the great food, the great service, or the the low prices, or even that they are available for their customers from 5:00 am to 10:00 pm… It is about their location.
The Parkway Family Restaurant is  located only a couple hundred feet from Highways 12, 14, 18 and 151 (the belt line in Madison Wisconsin) and you would think that this is a very good location, but there is more to the story. First, it is not visible from the belt line because of exit ramps and trees etc. Second, they have a business in the modern world; the world of the internet. When people do a Google search, they see his neighbors and the chain stores, food and dinning guides, but he is nowhere to be found. Out of site, out of mind, out of business…
I stopped there one night to eat because it was very late and many places were already closed. I was served very quickly with some of the best steak I have ever eaten, 1 pound for $16. I have been driving past this place for a very long time now and I had no idea it existed until one day a local mentioned it to me. I handed the waiter a business card and told him without batting an eye, that they need a Website and an online presence.
The next day I got a call and the rest is history. The owner knew that his business was beginning to slide between the fierce competition on the web and the road construction; he made yet another successful business decision; to hire me and get his place found on the internet.
Features and Concepts
This Website appears to be simple and somewhat old fashioned, but there is a reason for every detail that you see. There is an address on every page and the home page puts this first. The slide show on the home page helps people recognize the restaurant by using images. The menu bar gives access to the rest of the site and especially the menu. I asked the owner what sets him apart from others in his industry and he said mostly the prices, but I would have to say service. So when you visit his Website, you will see prices on everything because this is one the restaurant's strongest features (See images below).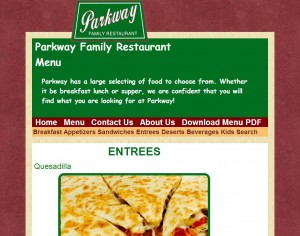 Along with prices, he also boasts a large and complex menu. Many restaurants suffer from the PDF syndrome as I call it. They seem to have a great Website but when it comes to the menu, they dish out a simple scanned PDF image file that is not only hard to read, and impossible to search, but also many people do not keep up on the installations of Adobe so they get nothing or a crash instead. I was able to break this large menu down into sections and implement a database with a search feature so that customers could search for their favorite cuisine. The initial menu section changes depending on what time of the day it is; 4:00 am, they get the breakfast menu, noon, the sandwiches and 4:00 pm, they get served Entrees!
Try searching a photo copy of a menu, or better yet, see if you can get Google to index that information to be relevant in a user's search result! Only pure text can be read and indexed properly. If the information is only in image format, your menu will never draw in people searching for their favorite food.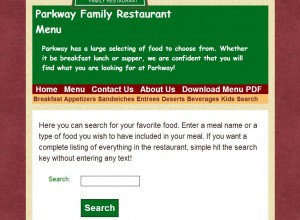 So he has a great little Website with a large menu, what else could he do to self-promote this Website and his business? How about a chance to win a free meal? When someone wins, they always drag the rest of their family in with them so the cost is absorbed and turned into profit. But what the real winner is that they will come to his Website and enter to win. While they are there, they will look at his menu and specials. They can choose to have more information on specials sent to them in their email. Yes, an instant and welcomed mailing list!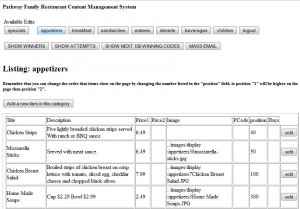 The restaurant is very adaptive and it's menu is always changing. But no frets, this Website also has a content management system that allows them to change or add new listings. They can select a photo, change prices, select the order that the items appear on the page, even the days of the week that the specials will appear because they run different specials every day to entice a different crowd. They can do all of this without ever having to call a web designer, pay him, and wait for him to make the changes.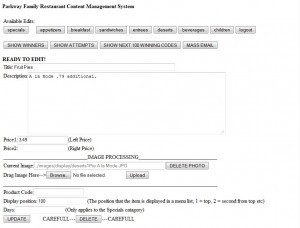 When you pick item for edit, the edit window opens up and you are able to change any of the data associated with a food item or delete it.
Just as important as the main Website, Parkway Family Restaurant also has a mobile Website. In this day with millions of mobile devices being used to find directions, products, and just about anything else that home computers are being used for, it is of greatest importance to have at least a simple mobile Website, or again, out of site, out of mind.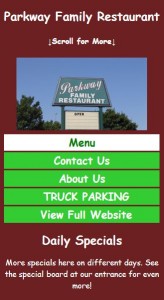 There is more to a Website, like search engine optimization; creating a Website is only the beginning. A person could spend a lot of time registering with all the free sites,  modifying content and meta tags to help optimize the search results. Getting links from other good Websites to help boost this site's ranking in the search results and much more.