So you think you know something about online presence and how to get found locally? You can take the quiz on the MOZ Website (search experts) to see how much you really know.
I am humbled to say I scored an 88!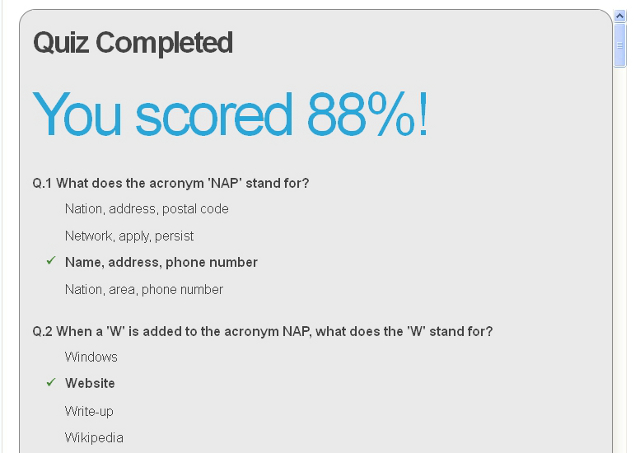 According to MOZ, that's not too bad(below)..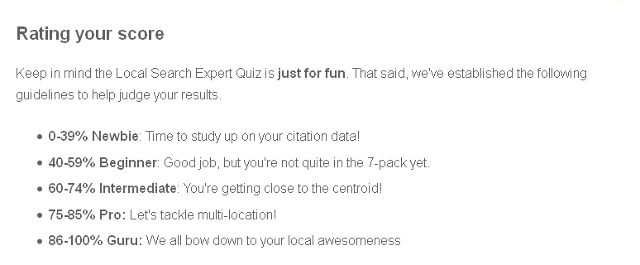 How did you do?
If you scored like I did then you probably already know enough to head out on your own but if not, keep reading as I can offer you a little advice to get you pointed in the right direction.
Now MOZ says the test is for "fun" and it is, but I say for small business owners and marketing people alike,  it is life or death knowledge. Why should you know this info? Because you will know even if the person you have doing these things, doesn't. It is critical that this gets done and done right! Lets start with breaking down local search a little.
State Level Search Results
By adding in the state or state prefix to a search, you will get results mostly pertaining to the state. This is a great thing if you are located in a certain state and want to get business from the surrounding area. For an example of state level search applied to my very own Website, try searching Google for:
content management systems wi
As expected, this search returns some results related to the entire state of Wisconsin as shown below.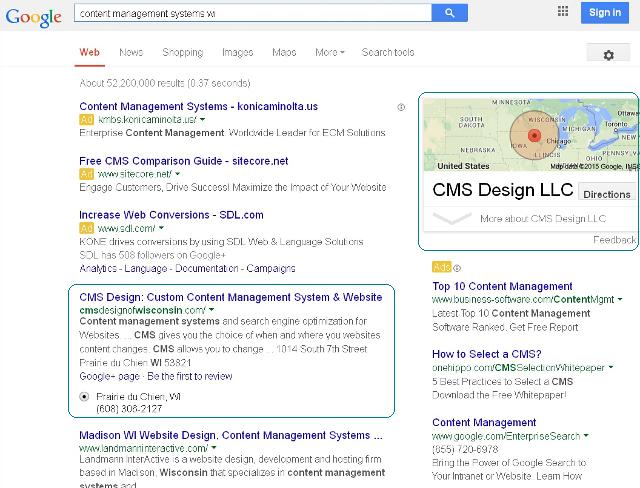 City Level Search Results
By adding in the specific city, users will get results almost entirely for that city. There is a HUGE boost in performance for page 1 Google search results! This is great news if you have a city specific business. Places like Google + and Yelp will get you found just as easy as your own Website and even better if it is relatively new.
Now try:
content management systems prairie du chien wi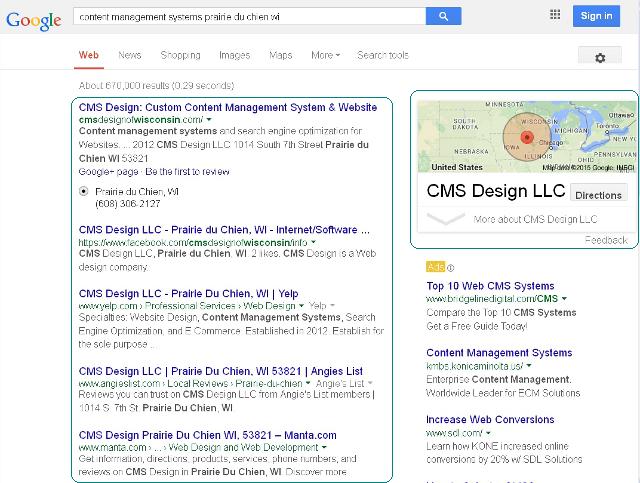 These types of search results vary greatly on things like the industry, competition, how active the Website is, even social signals like Google + (Google + pluses have been noted by many as the second most important ranking factor of all).
Name Address Phone Number
A word about your Website if you have one. Make sure that the NAP (name address phone number of your business) is on all the pages, typically in the footer. This tells the search engines that you are talking about a very specif place and a specific business. The more relative things are both on the search side and on the Website side, the better the two will match up in search and the better the positions will be in the search results!
Using Free Services To Get Your Business Found
Before you set out to get your business found in local results, make sure you keep the NAP (name address phone number) the same across all sites.. Also, where there is a place to enter your Website's URL do so; when a user sees your ad and a link to your Website, they are only one click away from a visit! Make sure you keep track of all of your passwords , URLs needed to log in to these sites as some day, you will probably want to update your information!
Of all the things out there, start with Google!
https://www.google.com/business/
Then Yahoo Local
Then Bing Places for Business
Then Yelp
There are many more out there. Use a service like Yext to find them, you do not need to sign up just take their list and go to the sites yourself and sign up for the ones you want.
Don't forget to get into social media also especially Google +. Facebook, Twitter & Pintrest are also great places to share your ideas, products and services.
Here is a list of other places you can sign up for, but be forewarned some will try to sell you extended services. Again, these extended services are not really necessary.
WhitePages
MapQuest
Superpages
Citysearch
Local.com
Foursquare
DexKnows
MerchantCircle
eLocal
EZlocal
LocalDatabase
ShowMeLocal
Topix
CitySquares
LocalPages
MojoPages
Yellowise
YellowMoxie
Tupalo
Avantar
Co-Pilot
Cricket
YellowBot
MetroPCS
Navmii
Where To?
ChamberofCommerce.com
USCity.net
AmericanTowns.com
YellowPageCity.com
8coupons
Factual
PennySaver
Yasabe
GetFave
GoLocal247
Citymaps
Citybot
YellowPagesGoesGreen
Pointcom
ABLocal
Opendi
VotefortheBest
2findlocal
MyLocalServices